Abstract
I-30
Ultrafast photoexcitation and relaxation pathways in TiO2 photocatalysis
H. Petek1*
,
S. Tan1
,
A. Argondizzo1
1Department of Physics and Astronomy, University of Pittsburgh, Pittsburgh, PA 15260, USA
We investigate the ultrafast optical excitation and electron relaxation pathways for the clean as well as molecule and metal nanoparticle covered rutile TiO2(110) surface. Using high power, broadly tunable (2.9-4.6 eV), 20 fs NOPA excitation source, we perform multiphoton photoemission (mPP) spectroscopy of TiO2 surface. The energy, momentum, and pump-probe delay time resolved mPP spectra provide information on the initial and intermediate states in the multi-photon excitation process (Figure 1) [1]. The excitation is initiated from the valence band or the Ti-3d defect states on reduced TiO2 surfaces. The intermediate states are either higher-lying Ti-3d bands of eg symmetry [1], or the adsorbate induced unoccupied resonances [2-5]. The excitation of adsorbate resonances can initiate femtochemistry, such as proton-coupled electron transfer, provided that their decay by reverse charge transfer to the conduction band of TiO2 is sufficiently slow.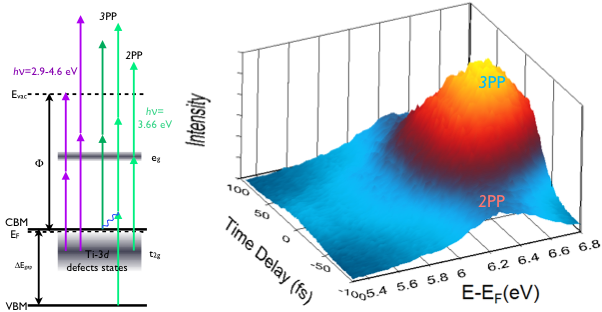 References:
[1] A. Argondizzo, X. Cui, C. Wang, H. Sun, H. Shang, J. Zhao, and H. Petek, Phys. Rev. B 91, 155429 (2015).
[2] K. Onda, B. Li, J. Zhao, K. D. Jordan, J. Yang, and H. Petek, Science 308, 1154 (2005).
[3] B. Li, J. Zhao, K. Onda, K. D. Jordan, J. Yang, and H. Petek, Science 311, 1436 (2006).
[4] J. Zhao, B. Li, K. Onda, M. Feng, and H. Petek, Chem. Rev. 106, 4402 (2006).
[5] H. Petek and J. Zhao, Chem. Rev. 110, 7082 (2010).