Abstract
HT-05
Vibrationally coherent transfer in an electronically decoupled DTE-BODIPY dyad investigated by pump-probe experiments and theoretical modelling
J. Wahl1*
,
F. Schweighöfer1
,
L. Dworak1
,
M. Braun1
,
M. Zastrow2
,
K. Rück-Braun2
,
J. Wachtveitl1
,
I. Burghardt1
1Institute of Physical and Theoretical Chemistry, Goethe University Frankfurt, Max-von-Laue Str 7, 60438 Frankfurt, Germany
2Department of Chemistry, TU Berlin, Straße des 17. Juni 135, 10623 Berlin, Germany
A combined experimental and theoretical investigation has been performed of the photo-induced ring-opening reaction of an electronically decoupled DTE-BODIPY dyad [1]. The femtosecond time-resolved UV/Vis pump-probe experiment exhibits a low-frequency oscillatory signal [2], which can be interpreted in terms of two time scales: (1) an ultrafast planarization of the DTE moiety [3] and (2) a slower coherent vibrational energy transfer to the BODIPY moiety induced by the geometrical DTE changes [4]. This assignment is based on Fourier transformed experimental data and a theoretical investigation at the TDDFT level of theory, along with a normal mode analysis that indicates several prominent vibrations in line with the above interpretation. Quantum dynamical simulations are performed to model the coherent, ultrafast transfer process in the presence of intramolecular vibrational redistribution and an external solvent environment.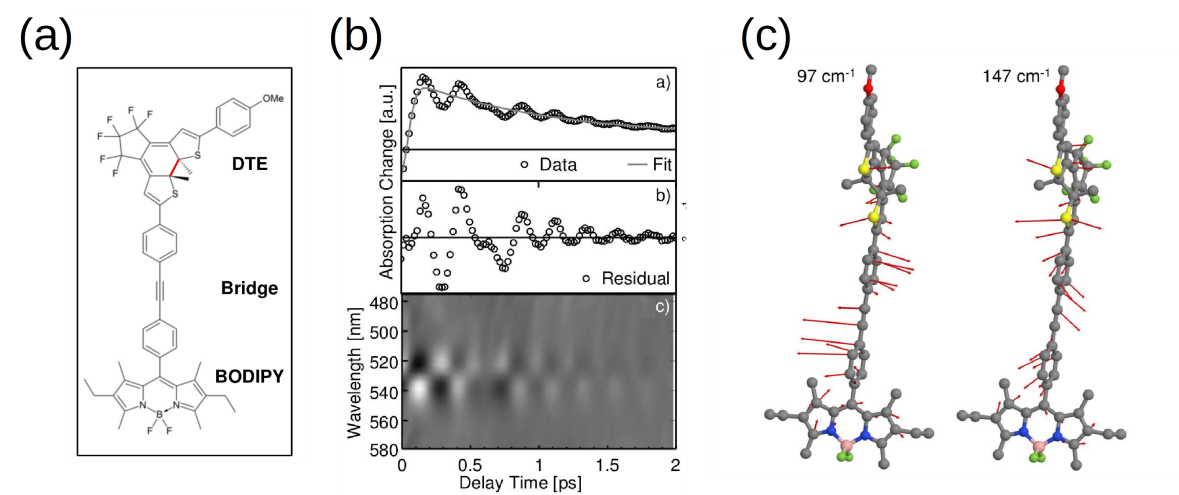 References:
[1] Y. Asano et al., J. Am. Chem. Soc. 126, 12112 (2004).
[2] L. Dworak et al., Phys. Rev. Lett. 107, 247401 (2011).
[3] G. Cirmi et al., Phys. Chem. Chem. Phys. 12, 7917 (2010).
[4] F. Schweighöfer et al. J., (2015), Sci. Rep., 5, 9368 (2015).